Wer ein nettes Theme für das Simple Machines Forum sucht, findet hier das WoW-DK.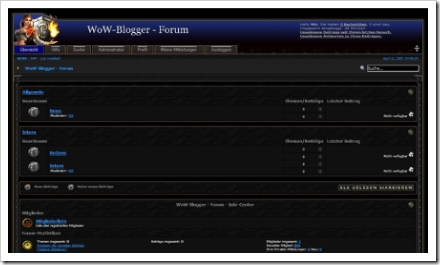 Man kann mehrere Farben bzw. Bilder im Header einstellen: Horde und Allianz. Wer das Simple Machines Forum auf deutsch eingestellt hat und das Theme installiert, bekommt man so ein Fehler hier:
Attention of wow-dk theme:

You should put "Modifications.german.php" on the "languages" directory ( http://forum.wow-blogger.de/Themes/wowdk11_d/languages/ ) in the theme of wow-dk.
Copy "Modifications.english.php" of the "languages" directory of wow-dk onto the first. Next, rename it according to the language for which you use the file.
Dieser "Fehler" ist aber einfach zu beheben. Geht einfach in den Ordner hier: ../Themes/wowdk11_d/languages/, kopiert die datei Modifications.english.php und fügt sie in den gleichen Ordner und ändert einfach nur den namen in Modifications.german.php. Nun sollte der "Fehler" weg sein.